Death of Nicholas Thorne-Belance: the policeman will be charged
|
Stopru has learned that the officer of the Sûreté du Québec who was driving a spinning car that struck and killed a 5 year old boy last year in the borough of Saint-Hubert Longueuil will be charged with dangerous driving causing death.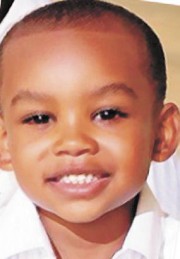 The victim, Nicholas Thorne-Belance, 5 years.
PULLED FROM FACEBOOK PHOTO
The independent report on the boy's death ordered it six months ago by the Minister of Justice after the publication of several reports La Presse recommends to the Director of Criminal and Penal Prosecutions for criminal charges to the police officer Patrick Ouellet place , traveling at over 122 km / h at the time of impact.
The report, whose content was unveiled today to the family of the young victim, Nicholas Thorne-Belance suggests to institute counts of dangerous driving causing death, whose sentence can reach 14 years imprisonment.
He will appear by way of summons before a judge in Longueuil June 26
Reportedly, the three prosecutors or the retired judge of the Quebec Court of Appeal Pierre J. Dalphond, who chaired the committee, lawyer Lucie Joncas and Guy Loisel, attorney for criminal and penal prosecutions are unanimous in their recommendations. They asked for further investigations in the context of their work.
According to our information, the details of the case will not be publicly announced not to harm the defense of the accused.
Back to the accident
On 13 February 2014, Mike Belance driving his son to daycare. Every morning, shortly before 8 am, he was traveling on boulevard Gaétan-Boucher in Longueuil, in the borough of Saint-Hubert. At the corner of Boulevard Davis, it began a left turn at the same time engaging in the way of reverse circulation.
An unmarked car driven by a 29-year-investigator of the SQ arrived at full speed in an area of ​​50 km / h. The vehicle rammed into the back right of Mr. Belance gray Kia, where sat his son. The young father had misjudged the distance, but especially the unusually high speed of the car that was traveling in his direction.
In November, after nine months of investigation by the Montreal police, the DCPP has decided not to lay charges against the police officer who was driving.
C'est La Presse revealed that the man did not respond to an emergency call and was traveling at more than 120 km / h in an area of 50. He attended a spinning under investigation. The case has greatly undermined public confidence in the justice system. It has affected to the office of Prime Minister and forced to hold a new investigation.
– With the collaboration of Daniel Renaud
The Stopru